"I never change. Except in my affections."
Gwendolen,
The Importance of Being Earnest
The wonderful Lauren Rees, Nick Hughes, and ME as Cecily, Chausuble, and Gwen. I love Victorian people in front of televisions.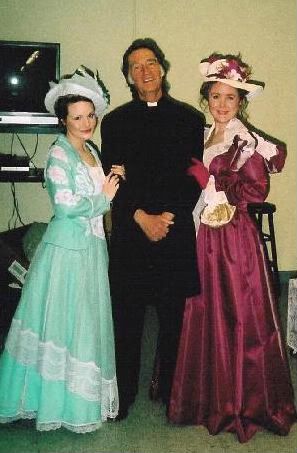 This weekend, I learned that Oyster Mill Playhouse in Camp Hill is putting up
The Importance of Being Earnest
, possibly my favorite play ever written. A few years ago, I had the opportunity to play Gwendolen, and it was possibly one of the most amazing productions I'd ever been in. Fantastic cast, amazing director, just an all around wonderful experience. So, when I heard that Oyster Mill was doing it, I threw reason aside and ran up to audition on a whim.
Callbacks were last night, and I wasn't able to attend. I had to work, and honestly the more I thought about it, the more I realized that it might not be my wisest plan to do that show again. I was so lucky to have such a phenomenal time with it the first time around. And I relatively recently had the unfortunate experience of seeing a fairly wretched production of it (a few key elements aside) and all I could remember thinking was, "Dear God, thank you for giving me MY Earnest, and not this stage-dwelling disaster." Not that the entire production completely blew. I was just jaded. Additionally, this theatre is in Harrisburg, and with work, school, and life (you know...my friends, boys, parties, other shows I want to do, murder mysteries, and that great game with the spinny thing in the middle) I'm not 100% sure I could commit the time. In any case, I didn't make it to callbacks.
Around 10:00 p.m. last night, the director called me to offer me the role of Gwendolen...which is exactly what I'd wanted. How did I swing that without even going to callbacks? Was I THAT good? Or was everyone else THAT bad? So now I'm not sure what to do. I seriously don't think I have the time to commit to it...but I love the show. I also don't know anything about Oyster Mill. So I'm torn. I would appreciate advice and/or thoughts on this matter!
And just another quick jaunt down memory lane...here's me, Eric (our director) and Lauren backstage before opening night...I get so nostalgic and happy when I think about this show!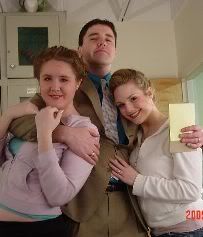 xoxo